Used and New
Engineered
Packaging Equipment
LET US HELP YOU WITH YOUR BOTTLING AND PACKAGING EQUIPMENT NEEDS
H&G Equipment was founded more than 40 years ago to serve the Packaging Industry by selling, servicing, and buying used packaging equipment. H&G Equipment over the years has evolved into a full service packaging equipment supplier.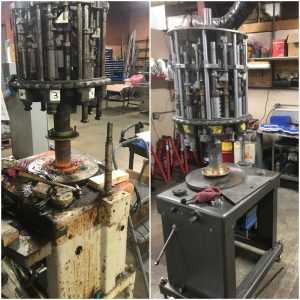 -NEW MACHINERY OFFERINGS:
-H&G EQUIPMENT – 1000 SERIES
-SPEEDS UP TO 50BPM, AVERAGES 40BPM
-ABILITY TO WORK IN ANY OF THE BELOW APPLICATIONS:
-CAPPER / CORKER / PLUGGER / ROPP
-VIDEO ONLY SHOWS WORKING AS A CORKER
Today we specialize in all types of capping machinery as well as cap sorters, cap elevators, fillers, labelers, bottle unscramblers, conveyor, and several other pieces of equipment. We offer a large inventory of replacement parts for Consolidated 'Capem' cappers and Resina cappers. We also design and manufacture custom change parts, equipment, and repair and rebuild or overhaul your capping machinery and much much more!
Since 2018 H&G Equipment has been repairing and fabricating fill tubes and fill tube assemblies for all OEM fillers.